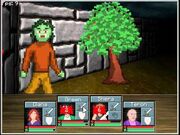 Zombies are the enemies in the game Legend of the Chambered.
Apperance
Edit
Zombies are tall creatures with light green skin, dark green hair, and red eyes. They also wear brown pants and yellowish-brown pants with dark blue shoes.
Zombies roam around the map and attack the player character. They can deal 5-1 damage to each player character.