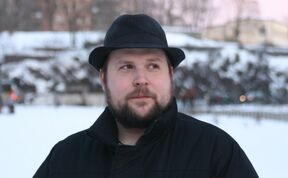 Markus Alexej Persson
(born 1 June 1979), also known as
Notch
is a Swedish video game programmer and designer who founded the video game company Mojang alongside Carl Manneh and Jakob Porser in late 2010. He is the creator of both of the Chambered games.
Games
Notch's most popular creation is Minecraft, a sandbox survival game released in 2009, the game became popular in November of 2011. Notably, Minecraft once utilized several textures from Legend of the Chambered, such as the armor and sword textures.
Notch has also developed Scrolls, most likely inspired by Hearthstone. Notch also developed several Ludum Dare games, such as Minicraft (a Legend of Zelda- style version of Minecraft) and Prelude of the Chambered.
According to the project page of Legend of the Chambered (which has, unfortunately, been deleted along with many of his other games), he lost interest in its production and gave up work on it. However, he revisited the concept for Ludlum Dare 21, creating Prelude of the Chambered.